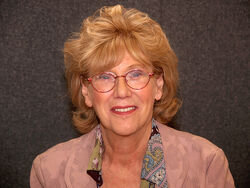 Anna Karen (19 September 1936 – 22 February 2022) was a South African-born British film, television and theatre actress. She was best known to this wiki for portraying Olive Rudge.
Early in her career, Karen worked as a striptease dancer at London's Panama Club. During her acting career she has starred in many films and television programmes, including the BBC sitcom Wild, Wild Women, between 1968 and 1969. That same year she played a schoolgirl in the classic bikini-flying scene in the film Carry On Camping (even though she was 32 years old). In both these roles she acted with Barbara Windsor (herself a 31-year-old "schoolgirl" in the film).
Karen's best remembered role was in the LWT sitcom On the Buses (1969–73). In this series, Karen played Olive, the dowdy sister of Stan (Reg Varney), and wife of Arthur (Michael Robbins). She also appeared in the film spin-offs, On the Buses, Mutiny on the Buses, and Holiday on the Buses. From 1977 to 1978, Karen reprised the role of Olive in the LWT revival of the sitcom The Rag Trade created by the same writers.
Karen died in a house fire on 22 February 2022, at the age of 85.
External Links