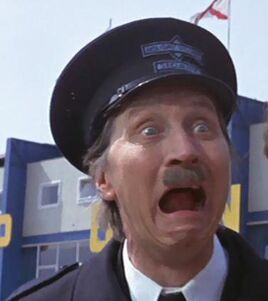 Inspector Cyril "Blakey" Blake is one of the main characters of the series and is the inspector for The Luxton & District Traction Company. He is from Wapping.
He is the bane of Stan's life, often checking up on Stan and Jack and often threatening them with the sack for lateness. He has a toothbrush moustache and a long black mac style. After Stan left to go live up North, Blake moved in to the Butler household as a boarder. He was in love with a girl called Else in 1941 and has a tattoo which Jack and Stan see and ridicule him for it.
After retiring from the bus company, Blakey moved to Spain where he lived with his sister, Dorothy.
Catchphrases
"I'll have you Butler!"
"That's made my day, that has."
"I 'ate you Butler!"