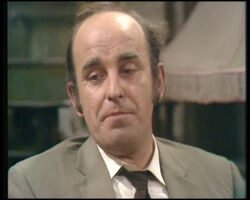 Michael Anthony Robbins (14 November 1930 in London – 11 December 1992 in Caterham in Surrey) was a British actor known for his television work.
Formerly a bank clerk, he became an actor after appearing in amateur dramatic performances in Hitchin, Hertfordshire, where he and his family lived at the time.
Primarily a comedy actor, he is best remembered for the role of Arthur Rudge, the persistently sarcastic husband of Olive (Anna Karen), in the popular sitcom On the Buses (1969–73).
Robbins and Karen provided the secondary comic storyline to Reg Varney's comedy capers at the bus depot. Robbins also appeared in the series film spin-offs, On the Buses, Mutiny on the Buses, and Holiday on the Buses.
External Links
[
]