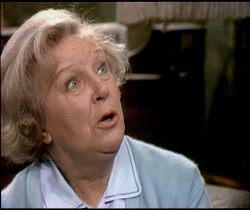 Mum (also known as Mrs Butler) is one of the main characters of the show and is the mother of Stan and Olive and mother in law to Arthur Rudge. She is also the widow of Albert Butler, who worked as a soldier, a postman, a banker and a fireman at different stages of his life.
Played in Series One by Cicely Courtneidge and Doris Hare from Series Two onwards. She is an over the top character who rules the house and will not tolerate any nonsense. She married her husband, Albert Butler in 1922 when they were both just eighteen years old. But tragically, Albert died of a heart attack in 1953, caused by drinking beer, whisky and cider and smoking cigarettes.
She loves having the children around her, and strives to keep peace between everyone. She looks after the household cat. It is revealed in 'Friends in High Places' that her full name is Mabel Ethel Butler however she usually is called Ethel.