Series One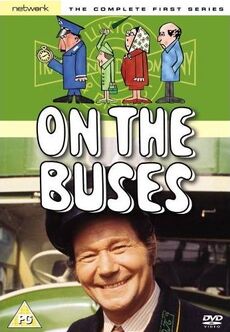 Country of origin
United Kingdom
Run
28 February 1969 - 11 April 1969
Series one of On the Buses was, as the name suggests, the first series of the show, running from 28 February 1969 - 11 April 1969 on ITV for a total of seven episodes.
Storyline
Edit
Stan Butler works as a bus driver for the Luxton & District Traction Company. He lives with his smothering, fatuously sentimental widowed mother, his frumpy and whiny sister Olive Rudge, and his lazy, hypocritical brother-in-law Arthur Rudge.
The bane of Stan's life is Inspector Cyril 'Blakey' Blake, who is often checking up on him and his conductor and friend, the cheerful, bucktoothed Jack Harper. Blakey often threatens them with the sack for lateness and he sports a toothbrush moustache, implying the image of Adolf Hitler.
His long black mac style coat resembles an ominous cape, earning Blakey his nickname, Dracula. Blakey constantly referred to Stan and Jack as "twits", "morons" and his memorable catchphrases were "I 'ate you Butler!" (and "That's made my day, that 'as." when something went his way) and "I'll get you for this Butler, you see if I don't". But when Stan moved to work in the North he changed to "I'll get you for this Harper, you see if I don't".
Episode list
Edit